Brad 'Clary' Parkes plays 1000th Game this Saturday
Massive congrats to Brad "Clary" Parkes who plays his 1000th senior game this weekend. Brad becomes only the second player in our Club's history to reach this incredible milestone. It's a wonderful achievement with 2018 being his 46th season of playing. Wow – think of all those goals. Brad is an amazing Club member and embodies the true spirit of the Club.  He deservingly became a Life Member in 2012 and many of us have had the pleasure of being a team mate of his over the many decades.
At one of our larger gatherings later this year we will celebrate this milestone appropriately.  For those that can make it, Brad plays his 1000th at Ryde this Saturday at 2pm. On behalf of the Club congrats again Brad – to you and your lovely family.
I have asked Brad to provide us with some words about his experience as a Panther. Enjoy.
Yours in Hockey
Glen Castensen
Club President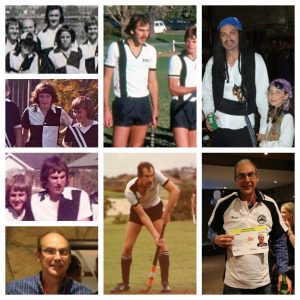 Brad Parkes – The Nic Cage of Ryde Hockey
This is my 45th straight year of playing hockey. I have only ever played for Ryde – a panther through and through.
I first began playing hockey at Ryde Hunters Hill District Hockey club when I was fifteen. I played juniors in the morning and fifth grade mens in the afternoon at Gladesville. I was in 2 premiership winning teams in that first year and decided this sport was Ok. My cousin Brett Kunkler and a mate Mark Gilbert both played hockey for Ryde and convinced me to give up soccer and join them.
I played 1st and 2nd grade hockey for Ryde over 15 years  and played 143 1st grade games. I was part of the 1st Grade team when we were promoted back into the top division and where we have stayed ever since. I never missed a Tamworth or Canberra trip (for the hockey of course – although I enjoyed the after partying as well).
I represented Sydney 2s at under 21 level and at the other end of my career played in Ryde's first masters game about 20 years ago and have been playing in Sydney Masters teams for 19 years. I have won the leading goal scorer trophy at least four times in my career.
I first began coaching junior teams when I was seventeen. That year I coached the one and only under 13 boys team and they won the premiership. I have coached junior teams from under 11s through to under 15s and my claim to fame is that I was Tom Craig's first hockey coach when he was in the under 11 B team as a 7 year old. I have also coached women's teams and won a premiership with women's 5th grade.
I have been heavily involved in the club over the years – helping to maintain the old Princess Street clubhouse, fundraising for our first turf, gaining sponsors, on social committees and as a selector.
I have made lifelong friends through hockey and couldn't imagine a winter Saturday without it.
Regards,
Brad