Bulk Uniform & Supporters Clothing Order
URGENT – Panther Uniform and Supporters Clothing Order
With the season getting close we will be doing a one off preseason bulk uniform and clothing order. Unlike prior year and to ensure a smoother process – we are moving to a bulk but limited number of order system. Make sure you get your order in for this bulk run as the next one won't be until mid year.
Items which can be ordered:
* Ryde Hoodies (Adults + Junior's)
* Ryde Polo Shirts (Men's, Women's + Junior's)
* Training Singlets (Men's, Women's + Junior's)
* Playing Shorts (Men's + Junior's)
Cut off date for orders to be placed: Monday, 19th March.
Estimated delivery time: Hoodies, shirts and shorts week commencing 2nd April; Training singlets, last week of April.
Playing Shirts – Please contact either the men's, women's or junior presidents in regards to purchasing (all women are required to have a numbered shirt).  If your shirt is 5+years old then time to get a new one.
Playing Socks – available from the Club canteen.
Black Skirts/Skorts – can be purchased from the Hockey Shop located at the Clubhouse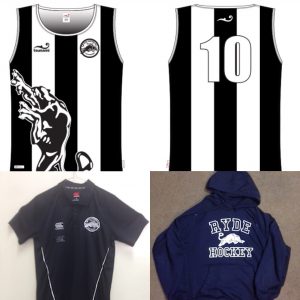 You can view sizing information and place your orders here:
https://rydehockey.clicktostart.com.au/shop/
Don't forget the cut off date is 19 March.  Have fun ordering. Maybe also get the famous Ryde Hoodies for your Dad or Mum!
Any queries please contact Jess: jess.dobbin@rydehockey.com.au